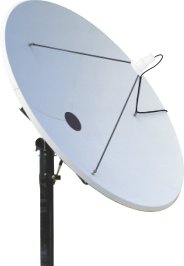 2.4m C-Band parabolic dish antenna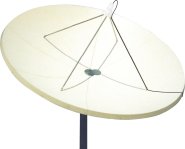 3.7m C-Band parabolic dish antenna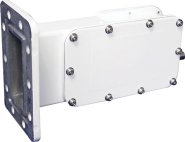 C-Band LNB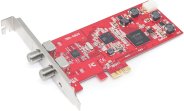 TBS 6903 PCIe DVB-S2 receiver card
Required for the EUMETCast Africa service. For coverage with different antenna sizes, please see Service Availability.
Antenna
Three-segment (2.4m) or eight-segment (3.7m) glass-fibre reinforced precision compression moulded polyester reflector.
Galvanised steel azimuth/elevation mount and pedestal.
Phase locked loop LNB with 5G rejection in weatherproof powder-coated housing.
Supplied with 50m of CT100 75Ω co-axial cable.
DVB receiver and software
TBS 6903 PCIe DVB-S2 receiver card.
Supplied with Windows drivers and Tellicast software.
C-Band antenna specifications
2.4m antenna
3.7m antenna
Reflector type
Prime focus parabolic
Prime focus parabolic
Reflective material
3-segment glass-fibre reinforced polyester
8-segment glass-fibre reinforced polyester
Reflector diameter
2.4m
3.7m
F/D ratio
0.37
0.37
Gain
37.5dBi
40.9dBi
Polarisation
Circular
Circular
G/T @ 5° elevation
17.7dB/K
21.7dB/K
Wind speeds
80km/h (43kt) operational
201km/h (109kt) survival
72km/h (39kt) operational
201km/h (109kt) survival
C-Band LNB specifications
| | |
| --- | --- |
| Feed type | Scalar horn |
| Polarisation | Circular |
| RF input | 3.8–4.2GHz |
| Noise figure | 0.8dB maximum |
| Total gain | >60dB |
| RF output | 950–1350MHz |
TBS 6903 PCIe DVB-S2 receiver card specifications
| | |
| --- | --- |
| RF input frequency | 950–2150MHz |
| RF input connectors | 2 × 75Ω F-type |
| Symbol rates | 1Msps to 67.5Msps |
| Channel rate | Up to 190Mbps |
Overview | Features | Ku-Band Hardware | Service Availability