Dartcom X-Band EOS System at the University of Valladolid, Spain, with the antenna system (circled) installed on top of a lift shaft.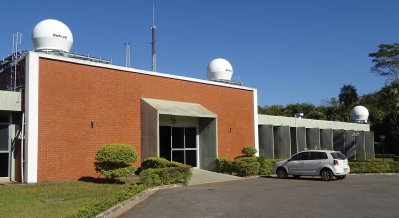 Dartcom X-Band EOS and L-Band Systems at the National Institute for Space Research (INPE) in Cuiabá and Cachoeira Paulista, Brazil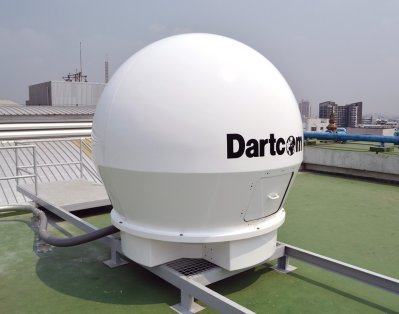 Dartcom X/L-Band EOS System at Chulabhorn Satellite Receiving Station, Kasetsart University in Bangkok, Thailand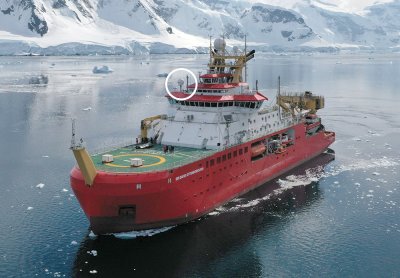 Dartcom Marine X/L-Band EOS System on British Antarctic Survey research ship RRS Sir David Attenborough (antenna circled)
The Dartcom X-Band EOS System comprises the following:
Outdoor equipment
2m diameter radome with hydrophobic coating to minimise signal loss caused by standing water during rainfall.
1.5m prime focus aluminium parabolic dish antenna.
Rotator/pedestal and controller (land-based and marine options).
Scalar feed horn and low-noise block downconverter (LNB).
Rugged, weatherproof GPS/GNSS antenna.
Optional radome environmental control unit for hot climates.
Optional radome heater for very cold climates.
All outdoor equipment is housed in the radome.
Indoor equipment
Modular system interface rack.
State-of-the-art demodulator.
Gigabit network switch.
Uninterruptible power supply (UPS).
Optional temperature sensor unit for temperature monitoring.
Ingest PC.
Processing and visualisation PC.
All units can be rack-mountable and supplied in an optional floor-standing cabinet for a complete rack-mounted system.
Features
Automatic data reception from Terra, Aqua, Suomi NPP, JPSS and FengYun-3 (FY-3) X-Band Earth observation satellites, with Metop-SG capability requiring only a future software update.
Combined X/L-Band option allowing reception from X-Band and L-Band satellites using the same antenna system.
Cost-effective upgrade path for existing L-Band (HRPT/AHRPT) systems to next generation X-Band Earth observation satellites.
Complete end-to-end solution with automatic data processing to level 0, 1 and 2 (currently level 0 and 1 only for FY-3).
Affordable to meet the limited budgets available for X-Band systems in universities and research institutions.
Simple installation with minimal civil engineering works.
1.5m antenna system enclosed in a radome to allow normal operation at wind speeds up to 185km/h (100kt or 115mph).
State-of-the-art RF components, allowing good data reception from 15° elevation. In practice good quality data can be received from Terra, Suomi NPP and JPSS at 7°, and Aqua and FY-3 at 5°.
Automatic daily prediction data updates from the internet.
Optional temperature monitoring with automatic tracking lockout.
All external components designed and treated to survive tropical and marine environments, with at least IP65 protection rating.
Modular construction for easy maintenance and future upgrades.
Comprehensive hardware and software diagnostics at all levels.
Overview | Antenna Options | Indoor Equipment | Technical Summary | Combined X/L-Band Option | Sample Images