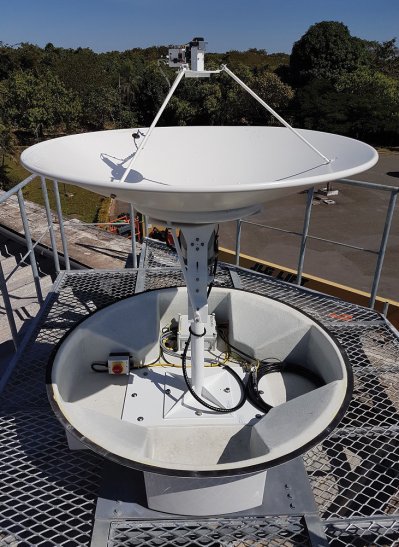 Radome removed from land-based antenna to show 1.5m parabolic dish antenna, scalar feed horn and LNB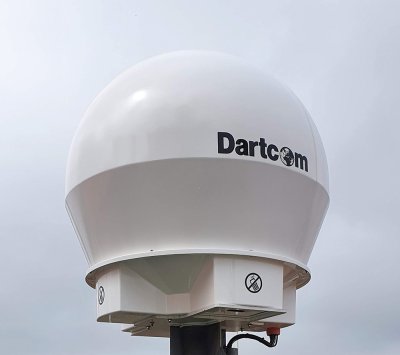 Active-stabilised marine antenna
The antenna can be supplied in land-based or marine variants. Both use essentially the same radome, dish and RF components.
Land-based antenna
High-speed dual-axis antenna rotator (elevation over azimuth).
Dartcom XPA rotator controller with PID function and closed-loop feedback for excellent pointing accuracy and smooth tracking.
Automatically controlled by the ingest PC via RS-485 serial.
Land-based antenna specifications
Control
Dual-axis PID controller with closed-loop feedback
Movement limits
0–360° azimuth
0–180° elevation
Speed
48°/sec azimuth
10°/sec elevation
Mechanical tolerance
±0.15°
Tracking accuracy
±0.1°
Weight
186kg (including radome)
Operating temperature
–20°C to +60°C unheated
–40°C to +60°C with optional heater
Survival temperature
–35°C to +75°C
Marine antenna
Active-stabilised pedestal to compensate for pitch, roll and yaw.
X-Y with continuous movement to eliminate cable wrap.
Automatically controlled by the ingest PC via TCP/IP.
Waveguide bandpass filter fitted between the scalar feed horn and LNB to prevent interference and damage from X-Band radar.
Marine antenna specifications
Control
X-Y head with active stabilisation in pitch, roll and yaw
Movement limits
None (continuous movement)
Vessel motion:
Roll
±30° @ 8 sec
Pitch
±15° @ 8 sec
Yaw
±80° @ 50 sec
Surge
±0.2g
Sway
±0.2g
Heave
±0.2g
Turning rate
10°/sec
Weight
180kg (including radome)
Power requirements
110/220V AC (±5%)
50/60Hz (+0, –3%)
660W
Wild heat
660W
Operating temperature
–10°C to +70°C unheated
–40°C to +70°C with optional heater
Survival temperature
–35°C to +75°C
Humidity
95% @ 40°C
EMI/RFI
MIL-STD-461
Vibration
Designed to meet MIL-STD-167-1
Shock
Designed to meet MIL-STD-901
Radar filter specifications
| | |
| --- | --- |
| Passband | 7750–8400MHz |
| Insertion loss at band edges | 0.25dB maximum |
| VSWR | 1.2:1 maximum |
| Rejection from 9300–9500MHz | 100db minimum |
| Operating temperature | –10°C to +50°C |
Overview | Features | Indoor Equipment | Technical Summary | Combined X/L-Band Option | Sample Images