Receiver rack fitted with optional additional LRD-100 digital multi-mode receiver and LRIT USB interface module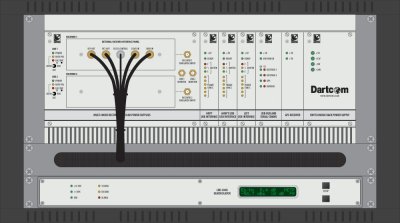 Receiver rack with optional LRD-200B digital multi-mode receiver and LRIT USB interface module
Digital multi-mode receiver specifications
LRD-100
LRD-200B
Signal input
range
–90dBm to –20dBm
–90dBm to –20dBm
IF
conversion
Direct 70MHz, up to 50Msps, 10-bit resolution
Direct 70MHz, up to 50Msps, 10-bit resolution
IF bandwidth
Programmable
Programmable
Supported
symbol rates
0.1–3.5Msps
0.1–3.5Msps
Demodulator
modes
BPSK, QPSK, PSK
BPSK, QPSK, PSK, 8PSK, 16QAM
BPSK/QPSK
performance
BPSK/QPSK within 1dB of theoretical, 0.5dB typical
BPSK/QPSK within 0.4dB of theoretical, 0.2dB typical
Convolution
decoding
Viterbi, rate ¾
Viterbi, rates ½ and ¾
RF inputs
Simulator or signal, selectable
Simulator or signal, selectable
Outputs
50Ω TTL clock and NRZ data
50Ω TTL clock and NRZ data
Display
LCD, 16-character × 2 line
LCD, 16-character × 2 line
Control
interface
RS-232 serial via USB serial adaptor
RS-232 serial via USB serial adaptor
The receiver rack is supplied as standard with a single LRD-100 digital multi-mode receiver and HRPT and AHRPT/LRD USB interfaces for reception of NOAA HRPT and Metop AHRPT data.
If GOES HRIT or GK-2A LRIT reception is required, a second LRD-100 receiver and an LRIT USB interface can be fitted.
Alternatively an LRD-200B receiver can be supplied instead of the LRD-100 to provide HRPT, AHRPT and FY-3 L-Band reception, plus GOES HRIT or GK-2A LRIT reception between satellite passes, all with one receiver.
If DMSP reception is required, a DMSP USB interface can be fitted. However GOES HRIT and GK-2A LRIT reception is then not possible unless a separate Dartcom USB LRIT receiver is supplied.
To support the proposed JPSS LRD service the digital multi-mode receivers will require a firmware upgrade, but apart from that the receiver rack is LRD ready.
Features
19" 4U high Eurocard rack.
Plug-in modules for easy maintenance and upgrades.
Desk or rack mount.
USB connection for data, rack control and GPS receiver.
RS-232/422/485 connection for rotator control, or optionally via USB if serial ports are not available on the ingest PC.
Modules
Multi-mode receivers and LNB power supplies module containing up to two digital multi-mode receivers (one as standard).
HRPT USB interface.
AHRPT/LRD USB interface.
Optional DMSP or LRIT USB interface.
USB hub and serial communications module containing 7-port USB hub, USB serial adaptors and RS-232/422/485 rotator interface.
GPS receiver.
Switch mode rack power supply.
Receiver rack specifications
Operating temperature
0°C to +50°C
Storage temperature
0°C to +70°C
Humidity
30% to 70% non-condensing
EMC emissions
EN61000-6-4:2007 A1
EMC immunity
EN61000-6-2:2005
Electrical safety
LVD 2006/95/EC
EN60950-1:2006
Dimensions (W×H×D)
450×180×455mm including connector projections
Weight
14.5kg approx
Power requirements
110–240V AC @ 50–400Hz
Power consumption
150VA
Wild heat
100W
Overview | Features | Land-Based Antennas | Marine Antenna | Sample Images