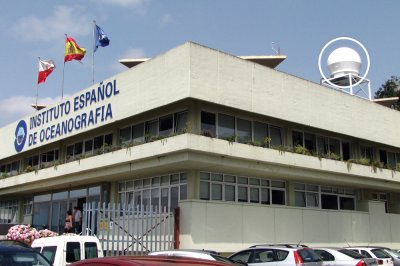 Dartcom HRPT/AHRPT System at the Spanish Institute of Oceanography, with a radome-enclosed 1.5m antenna installed on a roof-mounted platform (circled)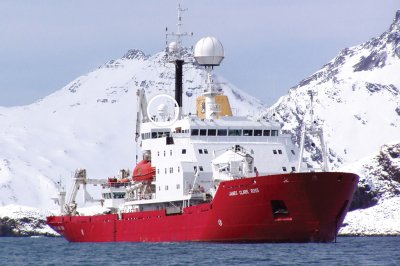 Dartcom HRPT/AHRPT System on the British Antarctic Survey research vessel RRS James Clark Ross, with a radome-enclosed 1.3m active-stabilised antenna (circled)
Features
Automatic reception, archiving and processing of data from NOAA HRPT and Metop AHRPT polar-orbiting satellites.
Optional additional modules and Geostationary Ingester software to also allow GOES HRIT or GEO-KOMPSAT-2A (GK-2A) LRIT reception between satellite passes, or continuously with an optional dedicated antenna.
Optional feed/LNB and module to allow DMSP reception.
Optional temperature monitoring with tracking lockout.
Proven, robust, reliable hardware and software, with installations worldwide in all climates, temperatures and environments.
Modular construction for easy maintenance and future upgrades.
Comprehensive hardware and software diagnostics at all levels.
Antenna options
1.2m and radome-enclosed 1.5m antennas are available for fixed, land-based ground stations.
The 1.5m marine antenna uses an active stabilisation system to compensate for the pitch, roll and yaw of a moving vessel at sea.
Both 1.5m antenna options provide a future upgrade path for X-Band EOS reception from Terra, Aqua, Suomi-NPP, JPSS, FY-3 and Metop-SG satellites with a Dartcom X-Band EOS System.
Software
Polar Orbiter Ingester – provides automatic satellite tracking, data ingesting, archiving and output.
iDAP – provides a wide range of image manipulation and processing facilities such as animation, enhancement, product creation, reprojection, masking, printing and exporting to third-party file formats.
MacroPro – automates the image processing facilities provided by iDAP.
Overview | Land-Based Antennas | Marine Antenna | Receiver Rack | Sample Images