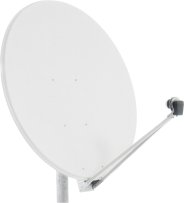 1.25m Ku-Band offset dish antenna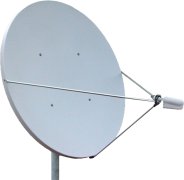 1.8m Ku-Band offset dish antenna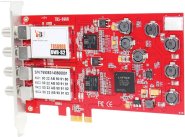 TBS 6908 PCIe quad tuner DVB-S2 receiver card
Required for the EUMETCast Europe service. For coverage with different antenna sizes, please see Service Availability.
Antenna
Powder-coated solid aluminium (1.25m) or glass-fibre reinforced compression moulded polyester (1.8m) offset reflector.
2.4–3.7m antennas also available for fringe area reception.
Optional additional antenna aligned on the EUMETCast backup satellite to provide higher availability.
Azimuth/elevation mounting bracket with the 1.25m antenna.
4" tubular pedestal with the 1.8m antenna. Non-penetrating roof mount also available.
State-of-the-art weatherproof quad LNB with 0.3dB noise figure.
Supplied with 150m of CT100 75Ω co-axial cable (50m per input) and F-type connectors.
DVB receiver and software
TBS 6908 internal PCIe quad tuner DVB-S2 receiver card, as recommended by EUMETSAT.
Allows all three EUMETCast transponders (basic/HVS1, HVS2 and HVS3) to be received simultaneously with a single antenna.
Supplied with Windows drivers and Tellicast software.
Ku-Band antenna specifications
1.25m antenna
1.8m antenna
Reflector type
21.3° offset
Offset
Reflective
material
Solid aluminium, white powder-coated
Glass-fibre reinforced polyester
Reflector
diameter
1.25m
1.8m
F/D ratio
0.66
0.66
Gain
41.3dBi
45.5dBi
Polarisation
Linear
Linear
G/T @ 5°
elevation
19.2dB/K
26.0dB/K
Wind speeds
80km/h (43kt) operational
120km/h (65kt) survival
72km/h (39kt) operational
201km/h (109kt) survival
Ku-Band LNB specifications
Feed type
Scalar horn
Polarisation
Linear
RF input
10.7–12.75GHz
Noise figure
0.3dB typical
Total gain
50–60dB
LO frequency
Low: 9.75GHz
High: 10.6GHz
RF output
950–2150MHz
TBS 6908 PCIe quad tuner DVB-S2 receiver card specifications
| | |
| --- | --- |
| RF input frequency | 950–2150MHz |
| RF input connector | 4 × 75Ω F-type |
| Symbol rates | 1Msps to 67.5Msps |
| Channel rate | Up to 190Mbps |
Overview | Features | C-Band Hardware | Service Availability