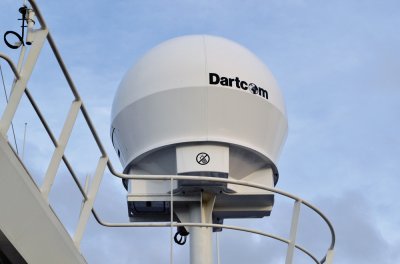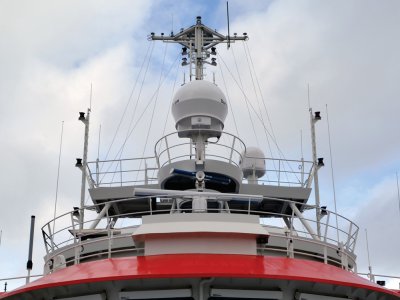 Dartcom 1.5m active-stabilised marine antenna installed on the oceanographic research vessel BAP Carrasco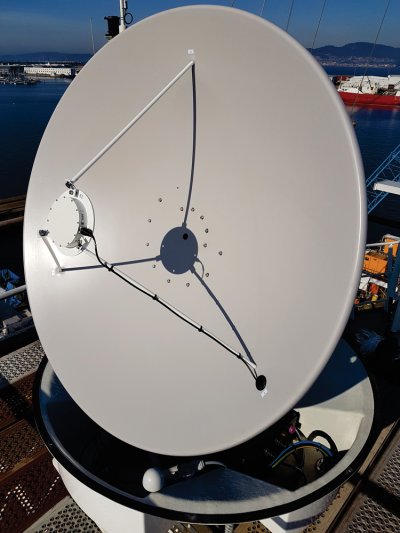 Active-stabilised pedestal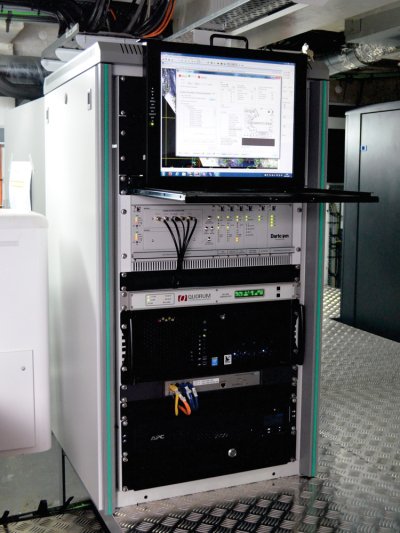 Below-decks equipment rack
1.5m active-stabilised marine antenna
This antenna tracks polar-orbiting satellites on moving vessels using a state-of-the-art active-stabilised X-Y pedestal to compensate for pitch, roll and yaw. It is CE certified and has been designed to meet or exceed military standard (MIL-STD) specifications.
It has continuous axis movement to eliminate cable wrap problems without slip-rings or rotary joints. Together with the pedestal's high speed and accuracy this ensures no "cone of silence" (data loss at high elevations).
An F/D ratio of 0.35 and 26dBiC gain (S-band 28dBiC) achieve a system G/T of >4.3dBK at 1.7GHz and >6.7dB/K at 2.252GHz, both at 5° elevation, and a bit error rate of <1:106 from 2° elevation.
The reflector is a 1.5m diameter prime focus aluminium parabolic dish finished in light grey paint. An integrated feed/downconverter (IFD) is mounted at the focal point in a hermetically sealed unit.
The dish, pedestal assembly and antenna control unit (ACU) are mounted inside a weather-tight composite radome with a hatch in the base or side. The ACU provides fully automatic control of the pedestal with an advanced stabilisation algorithm. Full diagnostics and maintenance facilities are available via the ingest PC which is housed in a below-decks equipment rack.
This antenna allows future system upgrades to receive X-Band EOS data from Terra, Aqua, Suomi-NPP, JPSS and FY-3 satellites.
Marine antenna specifications
Pedestal:
Stabilisation
Active, with gyro sensors for pitch, roll and yaw rates
Azimuth range
No limit (continuous)
Elevation range
–10° to 190°
Pitch rate
±15° in 8 seconds
Roll rate
±30° in 8 seconds
Yaw rate
±80° in 50 seconds
Turn rate
10°/second
Total weight
180kg approx
Radome:
Height
1.98m approx
Diameter
1.96m approx
Environment:
Wind speeds
185km/h (100kt) operational
240km/h (130kt) survival
Temperature
–10°C to +70°C operational
(–40°C with optional heater)
Design specifications:
EMI/RFI
MIL-STD-461
Vibration
MIL-STD-167-1
Shock
MIL-STD-901
Power requirements:
Voltage
115/230V AC @ 50/60Hz
Power consumption
1000VA typical
Integrated feed/downconverter specifications
Feed:
Beamwidth
3dB at 80°
10dB at 150°
Gain
+4.5dBi
Polarisation
Right-hand circular
Input filter:
Insertion loss
0.3dB maximum
Bandwidth
120MHz maximum
Overall:
Noise figure
1.2dB typical
Gain
60dB minimum
Converted bandwidth
50MHz typical
Input range
1682–1710MHz
IF output
117–145MHz
Overview | Features | Land-Based Antennas | Receiver Rack | Sample Images