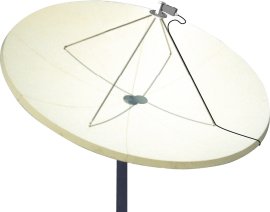 Parabolic reflector, scalar feed horn and X-Band LNB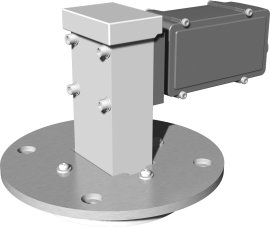 Scalar feed horn and X-Band LNB


DVB-S2 demodulator
Antenna
Glass-fibre reinforced precision compression moulded polyester parabolic reflector with eight segments.
Galvanised steel azimuth/elevation mount and pedestal.
Scalar feed horn with adjustable polarisation (LHC or RHC).
X-Band LNB.
Optional X-Band filter if co-sited with X-Band weather radar.
Up to 50m of Ecoflex 10 50Ω co-axial cable.
Receiver
DVB-S2 demodulator.
Fully compliant with GK-2A downlink specifications.
Monitoring and control via front panel or web interface.
Data output via gigabit Ethernet.
Ingest and visualisation PC
8-core processor and 16GB RAM.
Dedicated graphics with support for multiple monitors.
Storage configurable according to customer requirements.
Parabolic reflector specifications
| | 3.7m antenna | 4.5m antenna |
| --- | --- | --- |
| F/D ratio | 0.37 | 0.3 |
| Gain @ 8200MHz | 47dBi | 49dBi |
| Polarisation | Circular | Circular |
| G/T @ 5° elevation | 26.7dB/K | 28.5dB/K |
| Survival wind | 201km/h (109kt) | 201km/h (109kt) |
Scalar feed horn and X-Band LNB specifications
| | |
| --- | --- |
| Feed type | Scalar horn |
| Polarisation | LHC or RHC (adjustable) |
| Noise figure | 0.6dB typical |
| RF input | 7750–8400GHz |
| LO frequency | 6950MHz |
| IF output | 800–1450MHz |
| Gain variation | ±0.4dB maximum within 30MHz, ±3dB over band |
| Conversion gain | 60dB typical |
| Image rejection | >40dB |
| Input/output impedance | 50Ω |
| LNB input interface | WR-112 waveguide flange |
| Output connector | 50Ω N-type female |
| Output 1dB comp. point | +15dBm minimum |
| LO type | Internal PLL locked to TCXO |
| LO stability | ±1ppm (–20°C to +70°C) |
| Power input | 12–24V DV @ 190mA typical (via IF output cable) |
| Temperature range | –40°C to +80°C operational |
Demodulator specifications
| | |
| --- | --- |
| RF input frequency | 950–2150MHz |
| RF input signal range | –70dBm to –20dBm |
| RF input connector | 75Ω F-type |
| Symbol rates | 500ksps to 110Msps |
| Demodulation and decoding | Automatic detection of modulation and FEC type |
| Outputs | RJ45 gigabit Ethernet for monitoring and control, RJ45 gigabit Ethernet for data |
| LNB DC power feed | 13.5V/18V @ 450mA, switchable, short circuit protected |
| Power input | 100–240V AC 50–60Hz @ 35VA/25W |
| Form factor | 19"×1U rack mount |
| Dimensions (W×H×D) | 483×44×470mm |
| Weight | 5.5kg |
| Temperature range | 0°C to 50°C operational |