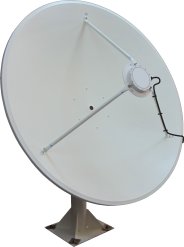 1.25m parabolic dish antenna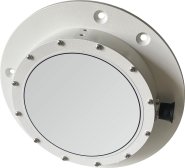 Integrated feed/downconverter


Dartcom USB receiver for GK-2A LRIT and GOES HRIT
Antenna
Powder-coated solid aluminium 1.25m parabolic reflector.
Powder-coated steel azimuth/elevation mount and pedestal.
Integrated feed/downconverter with weatherproof O-ring sealed machined case.
Up to 100m of RG213 50Ω co-axial cable.
Receiver
High-quality, low-cost receiver supporting GEO-KOMPSAT-2A (GK-2A) LRIT and GOES HRIT transmissions.
Housed in a sleek, compact, durable extruded aluminium case.
USB interface for fast, reliable data transfer to the host computer.
Fully software controlled, with detailed status reports available.
Built-in time-stamped fault logging.
20-LED real-time signal level display for easy dish alignment and operational signal monitoring.
Status LEDs for LNB power, signal lock, USB ready, control communications, data buffer status and frame synchronisation.
Adjustable RF attenuator to accommodate LNB signal inputs between –15dBm and –75dBm.
Supports QPSK and BPSK demodulation.
Built-in hardware Viterbi decoding.
Supplies power to the downconverter via the RF input.
Supplied with external 100–240V AC switch mode PSU.
DC–DC converter PSU also available for battery or portable operation (input 10.6–15V DC).
Parabolic reflector specifications
Reflector type
Prime focus parabolic
Reflective material
Solid aluminium, powder-coated
Reflector diameter
1.25m
F/D ratio
0.38
Gain
24.0dBi
Polarisation
Linear
G/T @ 5° elevation
2.2dB/K
Wind speeds
112km/h (60kt) operational
201km/h (109kt) survival
Feed and downconverter specifications
| | |
| --- | --- |
| Feed type | PCB patch IFD |
| Polarisation | Linear |
| RF input | 1691MHz ±25MHz |
| LNA noise figure | 1.2dB typical |
| Pre-LNA filter | 3-pole, –3dB ±60MHz |
| Total gain | >50dB |
| LO frequency | 1553.5MHz |
| RF output | 137.5MHz ±25MHz |
Receiver specifications
| | |
| --- | --- |
| RF input frequency | 135–144MHz (1688.5–1697.5MHz from a 1691MHz to 137.5MHz LNB) |
| Frequency resolution | 5kHz |
| RF input connector | 50Ω BNC |
| RF input level | –15dBm to –75dBm |
| Symbol rates | 64ksps to 1024ksps |
| Viterbi decoding | ½, K=7, G1=171, G2=133 |
| Demodulator modes | QPSK, BPSK |
| Data encodings | NRZ-S, NRZ-M, NRZ-L |
| Digital interface | USB port |
| Power requirements | 15V DC @ 2A |
| LNB power | 14–15V DC nominal @ 0.75A via RF input |
| PSU | External switch mode, input 100–240V AC 47–63Hz @ 1.2A |
| Dimensions (W×H×D) | 175×60×240mm |
| Weight | 1.7kg (including PSU) |