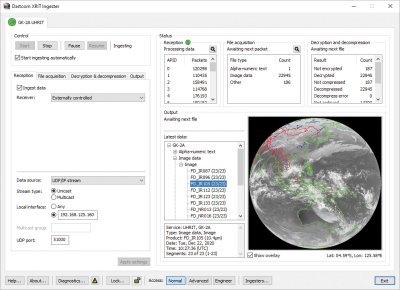 Dartcom XRIT Ingester software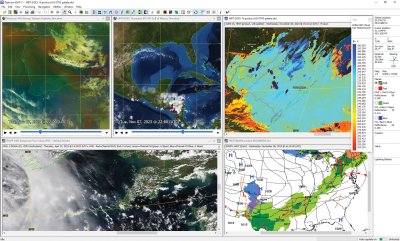 Dartcom iDAP/MacroPro software
AMI (Advanced Meterological Imager) spectral bands
Type
Central
wavelength
Resolution
Special
purpose
Visible
0.470µm
1km
Blue
0.511µm
1km
Green
0.640µm
500m
Red
Near infra-red
0.865µm
1km
Short wave
1.380µm
2km
infra-red
1.610µm
2km
Medium-wave
3.830µm
2km
infra-red
6.241µm
2km
Water
6.952µm
2km
vapour
7.344µm
2km
Thermal
8.592µm
2km
infra-red
9.625µm
2km
10.403µm
2km
11.212µm
2km
12.364µm
2km
13.310µm
2km
Components
The system comprises the following main components:
Antenna – prime focus parabolic dish, 3.7m or 4.5m diameter depending on location (see Antenna Requirements) with scalar horn feed and X-Band LNB. Optional X-Band filter if co-sited with X-Band weather radar.
Receiver – DVB-S2 demodulator with Ethernet data output.
Ingest and visualisation PC running Dartcom Geostationary Ingester and Dartcom iDAP/MacroPro software. Supplied fully set-up and tested for a turnkey solution.
Dartcom can also provide installation and training services.
Features
Direct reception of UHRIT data from the GK-2A satellite.
Eliminates the need for a costly high-bandwidth, high-reliability internet connection to KMA/NMSC to receive data via FTP, which in any case is available only to national meteorological offices.
Provides more resilience during severe weather events which can cause failure of telecommunications infrastructure.
16 spectral bands with high spatial resolution – 500m or 1km for visible and near infra-red, 2km for infra-red.
Fast imaging and frequent updates – full disks of all 16 bands are scanned and transmitted within 10 minutes, every 10 minutes.
Fully automatic reception, decryption, decompression, archiving, output and processing.
Proven, robust, reliable hardware and software.
Comprehensive hardware and software diagnostics at all levels, with on-screen and email alarms, and full logging if required.
Please note that a decryption key is required to receive GK-2A UHRIT data. Customers must apply for one from KMA/NMSC.
Software
Dartcom Geostationary Ingester – provides automatic ingest, archiving and output of UHRIT data.
Dartcom iDAP – provides a wide range of image manipulation and processing facilities such as animation, enhancement, product creation, reprojection, masking, printing and exporting to third-party file formats.
Dartcom MacroPro – automates the image processing facilities provided by iDAP.