1.5m Marine HRPT/AHRPT/LRIT System for Peruvian Polar Research Ship
Posted in Installed Systems January 25th, 2017 at 4:16 pm by Chris Wright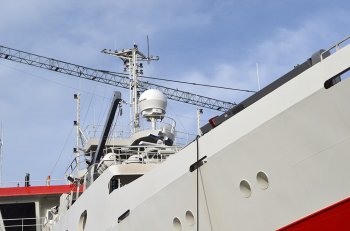 Dartcom has supplied and installed a 1.5m Marine HRPT/AHRPT/LRIT System on the Peruvian Navy's research ship BAP Carrasco, described as one of the world's most advanced polar oceanographic research vessels.
Her operating profile will range from hydrographic, biological, geological and physiochemical surveys to providing support with humanitarian operations.
The vessel is equipped with a meteorological office, six laboratories for different research purposes, a helicopter pad and a bathymetry transducer system fitted on the flat bottom of the hull.
The 1.5m marine antenna is also available with the Dartcom X-Band EOS System, with a combined X/L-Band option to provide HRPT/AHRPT and X-Band EOS reception in one system.
More information on the Dartcom HRPT/AHRPT System