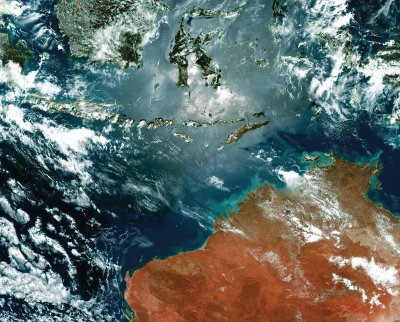 True colour image of Indonesia and Australia produced from the 0.64µm, 0.51µm and 0.47µm bands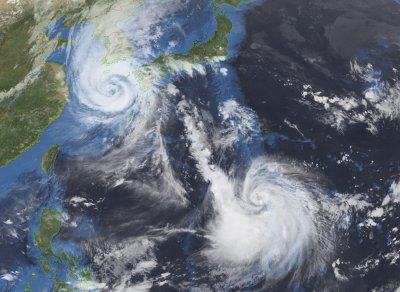 Typhoons Maysak and Haishen in September 2020, produced from the 10.5µm infra-red band with a Blue Marble mask applied using the Dartcom iDAP software
Reliable, high-performance system for receiving, archiving, processing and displaying ultra-high resolution data from the GEO-KOMPSAT-2A (GK-2A) satellite.
The Dartcom UHRIT System can receive, archive, process and display ultra-high resolution (UHRIT) data from the GEO-KOMPSAT-2A (GK-2A) satellite.
GK-2A transmits UHRIT data via a 31Mbps DVB-S2 X-Band downlink, as well as LRIT and HRIT data via L-Band downlinks supported by the Dartcom LRIT/HRIT System. DVB-S2 provides enough bandwidth for the 16 spectral bands produced by the Advanced Meteorological Imager (AMI) sensor at up to 500m resolution on a 10 minute repeat cycle.
Various meterological products are also transmitted in NetCDF format, including Rainfall Rate (RR), Sea Surface Temperature (SST) and Cloud Top Products (CTPS).
The service area includes Korea, China, Indonesia, Malaysia, Philippines, Thailand, Vietnam, Taiwan, Japan and Australia. For detailed coverage information, please see Antenna Requirements.
Ingested data can be viewed and processed using the Dartcom iDAP/MacroPro software. Outputs are also available for image processing software such as PCI Geomatica, ERDAS IMAGINE and ENVI/IDL, as well as standard interchange formats such as GeoTIFF.